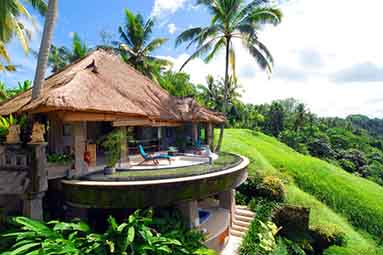 Added Values
Hotel Overview

Viceroy Bali Luxury Villas is family owned and operated, a rare affair for 5 star Bali luxury resorts. From the exclusive infinity pool overlooking the spectacular jungle ravine to the romantic villas offering absolute privacy, every detail of this tropical haven has been carefully assembled to give guests an extraordinary expression of world-class luxury. A secluded haven for romantics, adventurers and the mindful; Viceroy Bali luxury resorts commit to offering an unrivaled quality of customer service. A place where time slows down, connecting you with vibrant mother nature and offering rejuvenation.
Viceroy Bali Luxury Villas is owned and managed by an Australian family with vast worldwide travelling experience who have bestowed the resort with their love of culture and fashion. Guests can expect to experience graceful and caring personal service from the owners and their dedicated professional staff.
Meticulous design and a keen eye for detail from the owners resulted in the provision of very high class villa-style accommodations with stunning rural vistas of the Petanu River valley, all the while ensuring the highest degree of privacy to satisfy the most discerning travellers seeking security, luxury, and seclusion.
Unlike many upscale Ubud hotels, the intimate and friendly ambience is felt throughout the resort as all villas are built just a stroll from the supporting facilities like CasCades Restaurant, Aperitif Restaurant & Bar, The Lembah Spa, Viceroy Bar and resort pool, and the meeting and conference facilities.
All Viceroy Bali Luxury Villas guests are treated to individual personal service from all staff, with discretion, privacy, and security, being the priority. It is Viceroy Bali's philosophy to work closely with the local Balinese people, to respect all of their traditions, and to ensure that wherever possible, our local village people are employed to give all guests that unique Balinese experience. Viceroy Bali guarantees all guests absolute privacy and discretion so that the guest's stay at the hotel remains their own experience, and is not public knowledge.
Official Star Rating:
5 stars
Category

Boutique
Inventory

30 villas:
14 Deluxe Terrace Pool Villas
5 Vice Regal Pool Villas
4 Pool Suite Villas
4 Terrace Pool Villas
1 Viceroy Pool Villa
Unique Selling Points
Infinity pool
Total privacy and discretion
Supports local community