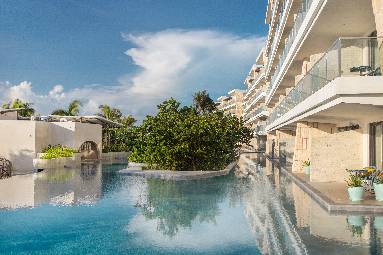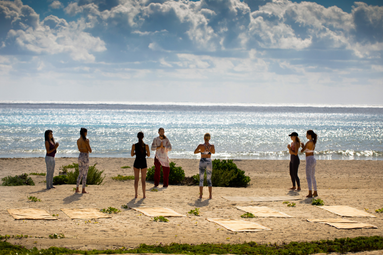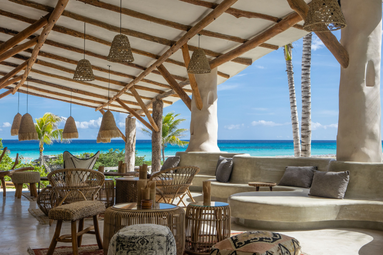 Hotel Overview
Surrounded by more than 988 acres of undisturbed jungle, Palmaïa – The House of AïA is strategically situated at the tail end of the most beautiful beach in the Mayan Riviera. It goes far beyond the beach resort experience to offer an extraordinary vision of wellness that doesn't exist elsewhere. Its "Progressive Wellness" concept recognises that the healing process is a journey not a destination, and that to travel this path to fulfillment, one needs to embrace harmony and achieve a healthy balance between body, mind and soul.
Palmaïa invites guests on experiences designed to nourish them inside and out, exploring the depths of spirituality through an extensive holistic program called The Architects of Life: a weekly schedule of mindful indoor and outdoor activities that promote movement, relaxation, connection, and personal growth. The journey of internal exploration goes even further with the delight of exquisite culinary offerings emphasising plant-based options throughout all dining venues (while also providing non-vegan items). Healing treatment temples, a natural cenote and a Temazcal are nestled in the depths of the Spa in the jungle.
Entertaining beach gatherings and music sessions with specially curated rhythms and frequencies are also part of the daily offerings included, as well as a children's club inspired by Waldorf education and enriching activities to connect with the community.
Category

Inventory

234 suites
6 Swim-Out Family Master Suite
4 Swim-Out Queen Suite + 4 in Adults-Only Building
20 Swim-Out King Suites with Bathtub + 6 in Adults-Only Building
30 Ocean Front Family Master Suite
54 Ocean Front Family King Suite
23 Ocean Front King Suite + 16 in Adults-Only Building
14 Ocean Front King Suite With Bathtub + 18 in Adults-Only Building
22 Ocean Front Queen Suite + 6 in Adults-Only Building
1 Ocean Front Work Away Suite
8 Ocean Front Meditation Suite (Adults-Only Building)
2 Swim-Out Meditation Suite (Adults-Only Building)
Unique Selling Points
Unrestricted Experience where everything is included (except spa treatments)
Secluded beachfront property with direct beach access
Four infinity pools overlooking the beach and mangroves
Two jacuzzi-style pools that blend into the jungle in front of the beach
Adults only building
Holistic experiences through "The Architects Of Life" programme
Sensory Exploration through the "Rituals Of Sound" series
Impeccable dining at four à la carte themed restaurants, a healthy café, one food truck, a beach bar and 24-hour room service
Atlantis Spa in the jungle, cenote, and temazcal
Awen Children's Center inspired by Waldorf education
Jungle Gym, shared bike service & paddle boards
Concierge services & nomadic guides
Member of American Express Fine Hotels & Resorts, Virtuoso, Signature Travel Network, Internova's Global Travel Collection, Ensemble and Serendipians