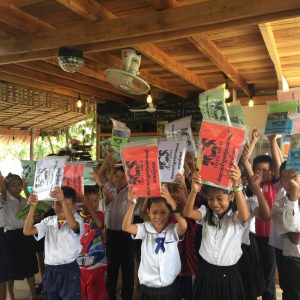 News had already reached us of the efforts of the Kdat community in Kampot province to provide better education for their children, so when it came time for our staff outing here in Cambodia, our team came up with a great idea… that we should combine a day of team-building with a community-related project to help the school.
In rural farming and fishing areas such as Kampot, there is not always access to quality education, so many children are at risk of a lifetime of poverty. The local villagers at Kdat have set up a community to help people work together and raise the level of education for the children in the area. They already have a 'homestay' project in place to help children from low-income families to stay in school.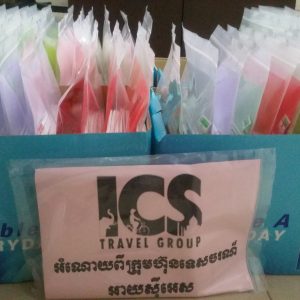 These rural schools often lack the most basic materials and therefore the schoolchildren go emptyhanded. To determine the most needed items, we called the school to ask what resources were in short supply. The answer – books, paper, pens, rulers and erasers – basic school supplies that schools in other countries take for granted.
Using part of the money we would normally spend on the staff outing, we bought our supplies and set off to the school at Kdat Sanaka. On arrival, the children, ranging from eight to ten years, were waiting for us in the community centre. Their enthusiasm for our donations was touching. Together, we took part in community activities. We chatted and heard about their ambitions and dreams. It was inspiring to see the desire and drive of the children to get a good education and create a better future for themselves – a determination instilled in them by their families and their teachers.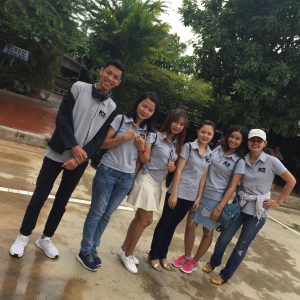 On the children's recommendation we also went to have a look at the waterfall not far from the village. The community is located in a very scenic and peaceful area, next to a river and surrounded by mountains and forest.
From there we drove to the top of Bokor Mountain to see the abandoned French retreat of Bokor Hill Station. These derelict crumbling ruins enjoy sweeping views across the country, sea and beyond.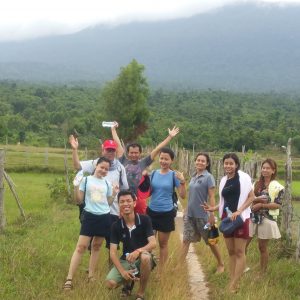 Lunch was taken at Kampoul Pich Resort in Takeo, a new resort. Takeo is home to the 11th century Phnom Chisor, an ancient Khmer temple rarely visited by tourists. Although we didn't have time to visit this temple, we did stop for a while at the new Puth Kiry Pagoda. This gave us the chance to reflect on the day and the difference that our donations will make towards helping provide a quality education for the children of Kdat.