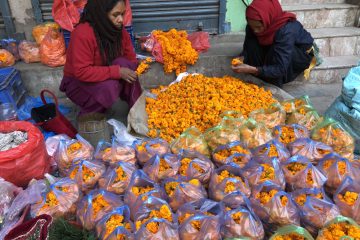 Highlights Experience the hustle and bustle of an ancient market. Watch the locals bartering for spices, rock salt and fresh
Nepal: आमा र मातृल्याण्ड ठूलो भन्दा महान छन् (Mother and Motherland are Greater Than Heaven)
A trekkers' paradise, Nepal combines Himalayan views, golden temples, charming hill villages and jungle wildlife-watching to offer one of the world's greatest travel destinations.
Nepal and the Himalayas – the two names go side by side. Nepal is one of the smallest countries of the world but has amazingly diverse geography, landscapes, culture and traditions. Situated in the lap of the mighty Himalayas, it is regarded as Dev Bhumi – the land of gods and worlds. Nepal is a multi-lingual, multi-ethnic, multi-cultural and multi-religious country where two major religions, Hinduism and Buddhism, co-exist in perfect religious tolerance.
The three ancient cities of the valley – Patan, Kathmandu and Bhaktapur – represent an epitome of harmony in urban design, elegant architecture and refined culture. These cities are home to a concentration of religious monuments unequalled in the world including many UNESCO World Heritage Sites.
Nepal is also one of the richest countries in the world in terms of bio-diversity, due to its unique geographical position and attitudinal variation. The elevation of the country ranges from 60 metres above sea level to the highest point on earth – Mount Everest at 8,848 metres. All this is within a distance of 150 kilometres, resulting in climatic conditions that range from sub-tropical to arctic.