Bali is one of the most alluring of the Indonesian islands, tempting travellers with sunsets, surf breaks and stunning landscapes. However an appreciation for the finer things in life often only comes with age, so why waste this utopia on the little ones? Instead indulge in some proper romantic grown-up time at an adult-only hotel.
But where to start to find these hotels – after all, you need to be careful what you google. Luckily we've got some fantastic options to whet your appetite for your next trip.
Be warned – these hotels are seriously sexy!
One Eleven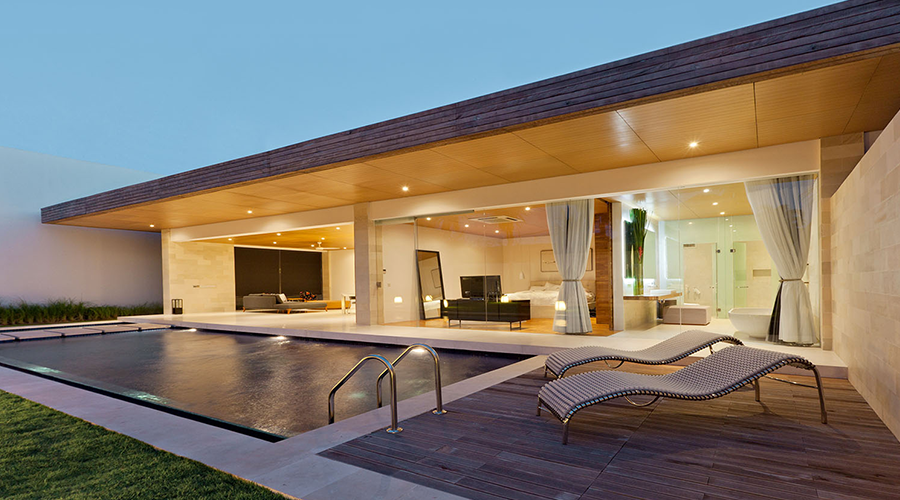 Behind tall walls, is a discreet and private sanctuary of nine spacious villas each with a 14-metre-long swimming pool and a spa gazebo. Wall-to-ceiling glass windows allow the light to stream into these sleek and minimalist, Japanese-inspired spaces. Spend your days soaking in the vast stone tubs, let the masseuses work their magic with pampering spa treatments, or just stretch out on a curvy sunlounger with a book. It's doubtful you'll want to leave, but just in case there is a shuttle bus into Seminyak itself.
The Kayon Jungle Resort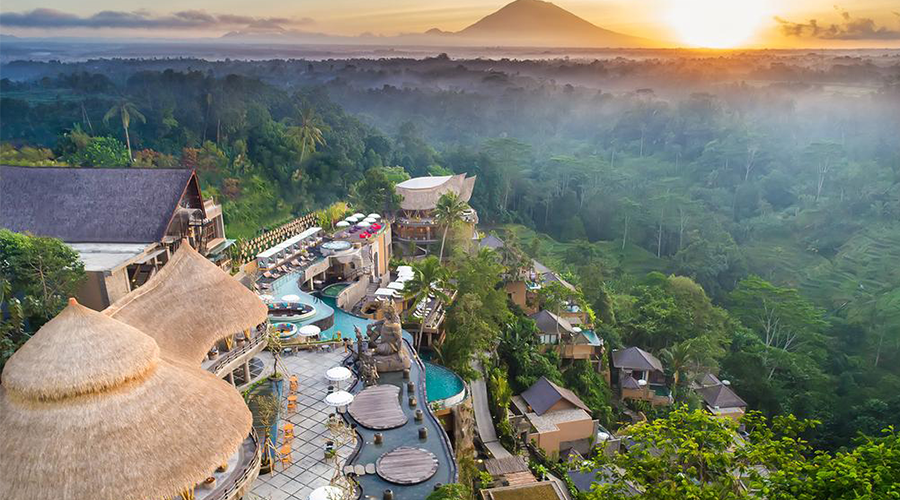 The ultimate retreat set in a remote area of Bali surrounded by beautiful rice terraces and jungle, and with incredible views of the mountains and the Oos River Valley. The highlight of this stunning hotel is a three level terraced infinity swimming pool inspired by the famous Tegalalang Rice Terrace.  An open restaurant and bar sit perched on the side of the cliff. Seriously loved up couples can tie the knot in the sky-high Puspaka Sky Wedding Chapel surrounded by the sounds of nature.
Kayumanis Ubud Private Villas & Spa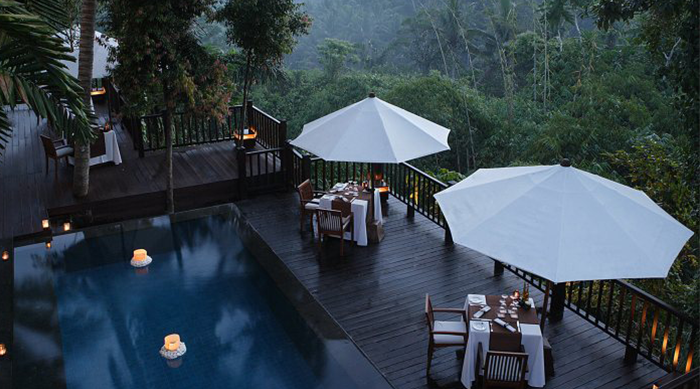 Kayumanis Ubud Private Villas & Spa is a discrete, intimate hideaway in the heart of Bali's mystical Ubud. Nestled amongst groves of cinnamon trees and fragrant blooms, this honeymoon haven is situated overlooking a tropical forest and the gently flowing Ayung River. Each of the 23 themed Kayumanis villas is luxuriously appointed and sinfully spacious with its own swimming pool and an open air garden bath. Find yourself through yoga, rice field treks, full moon dinners and temple offerings. Luckily there's no children as they'd play havoc with your meditation.
The Balé Nusa Dua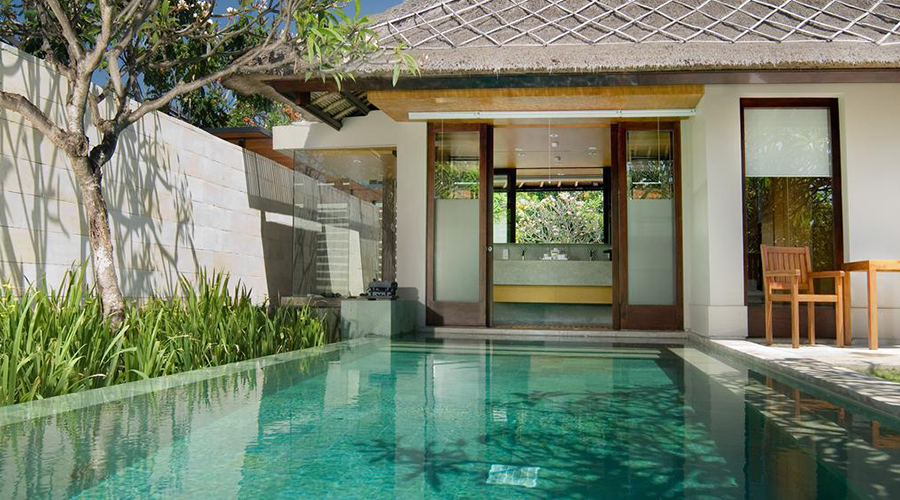 A serene, luxurious couples retreat, this magical and private Nusa Dua resort has 29 immaculately designed modernist pavilions, each with a private garden and pool. The 'no children' policy makes it ideal for honeymooners and newlyweds who will be waited on hand and foot by personal 24hr butlers. Indulge in the sublime spa, dine together by candlelight under the stars, hang out at the exclusive beach club, or curl up with your partner behind closed doors in your private pavilion.
Ametis Villa – Bali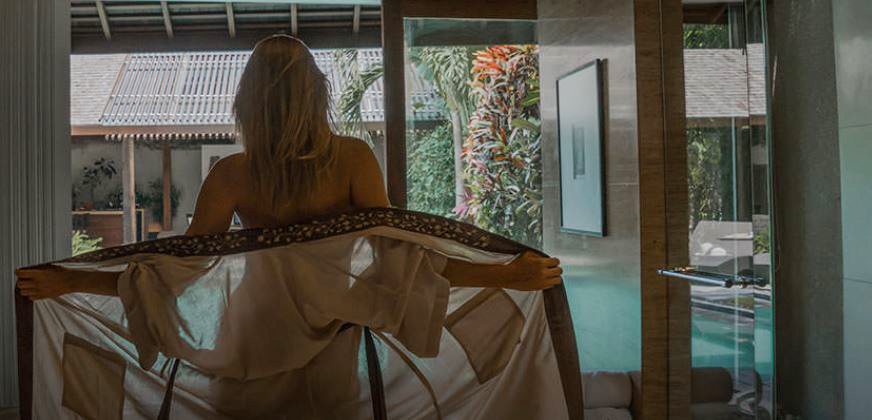 Ametis Villa is a collection of seductive, contemporary Balinese-style villas with gourmet kitchens and spa-style bathrooms. Jump out of your king-size platform bed straight into your very own aquamarine swimming pool, then feast on a full breakfast delivered to your room. Located in the ever-so-hip Canggu, an area dotted with rice terraces that extend to a rugged stretch of coastline, it's popular within surfing and expatriate circles, sought out for its laidback lifestyle.
The Royal Purnama Art Suites and Villas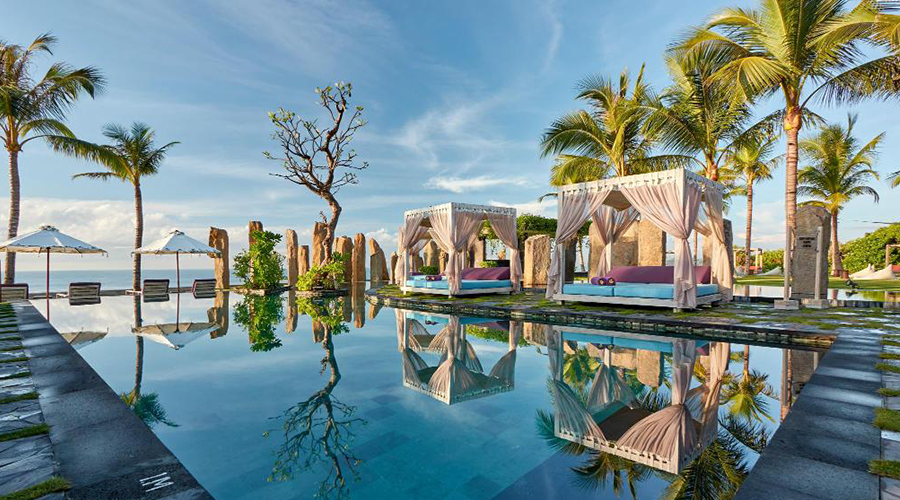 Set on a little-known corner of coast on the way to Manggis, the east-facing resort promises sunsets, surf and tranquility. Charming carved, painted wooden doors lead to the ground-floor pool villas and upstairs suites. When not unwinding in your outdoor jacuzzi or private pool, take romantic walks along the onyx-coloured beach whose sand is known for its therapeutic properties and for being the location of Hindu purification ceremonies.
There's more!
Check out these too:
Spa Village Resort Tembok Bali