Wineries in Asia? Probably not the first place that comes to mind when you think of wine. However there are several little-known vineyards throughout the region that are producing delicious tipples – many of which have been adapted to better pair with spicy food and hot climates. The views are pretty spectacular too.
So if you love your vino, head to these unexpected destinations to expand your wine horizons:
Monsoon Valley, Thailand:
Elephants in a vineyard? Built on a former elephant corral, Monsoon Valley is still home to elephants. The 560-rolling-acre estate sits on the edge of Burma with fantastic views of the verdant Hua Hin hills. Their New Latitude wines are pretty good, but the emphasis here is more on fun. There's elephant rides, mountain biking, vineyard tours by jeep, and of course wine tasting. The Sala restaurant has an open air terrace overlooking the fields and distant mountains and serves delicious tapas and main courses.
Red Mountain Estates, Myanmar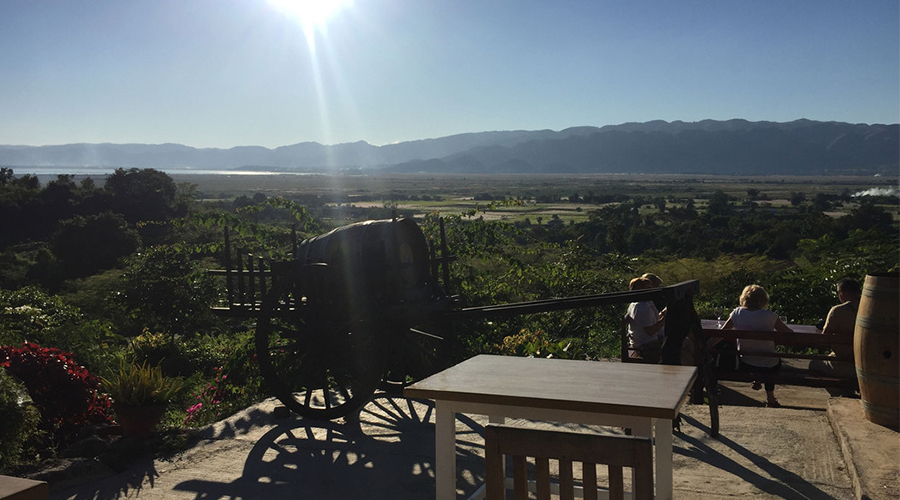 The vineyard with the best views has to go to Red Mountain in Myanmar. Located in the hills in Shan State, the sweeping views over Inle Lake are stunning. At the helm is Francois Reynal, a French winemaker who is in charge of all parts of the wine making. The estate releases some 16,500 cases a year of wine made from Shiraz, Chenin Blanc, Pinot Noir, Chardonnay, Malbec, Cabernet Sauvignon, Sauvignon Blanc, Tempranillo and Muscat. So grab a seat on the terrace, order some cheese and a wine tasting, then sit back and enjoy the sunset and views.
Hatten Wines, Indonesia
This family-owned winery is a truly Balinese affair – owned by a Balinese family, managed by Balinese staff and producing delicious wine from Balinese grapes. They've been making wine since 1994 and are most famous for their rosé wines, said to pair extremely well with spicy food. Situated along the north coast of the island, the 45 hectares are open to visitors for vineyard tours and wine tasting. The winery was awarded the "2017 Winery of the Year" title by the Asian Wine Review.
Grover Zampa Vineyards, India
Established as a family business in 1988, Grover Zampa Vineyards focuses on producing premium wines, with the standout being its award-winning La Reserve brand of oak matured Cabernet Sauvignon and Shiraz reds. There are two wineries – Nandi Hills in Karnataka and Nashik Valley in Maharashtra. The natural protection of the Nandi Hills and the terraced slopes of Nashik offer a fresh climate, fertile soil and perfect conditions for vine growing. Both do wine tasting and winery tours and visits to the barrel rooms.
Banan Winery, Battambang, Cambodia
Sleepy Battambang may seem like an unlikely place for Cambodia's first and only winery! Banan Winery grows Shiraz and Cabernet Sauvignon from vines brought from France. It's located just outside the town on the banks of the Sangkar River. You can stroll through the vineyards and taste some of the wine produced there. The owners, Ms Chan Thol and her husband Chan Thai Chheoung, are self-taught and started by crushing the grapes with their bare hands. Today, with the help of some modern machinery, they produce about 10,000 bottles of wine a year.